I have been trying to come up with a brand new mini plushie for the holiday show for weeks. I tried drawing lots of mini monsters but I didn't really like any of them. So, I decided to try something completely different.
This is what I made!
Felt will always be the main fabric I used to make my plushies. I love it way too much. But, I am hoping to try incorporating some other fabrics into my designs next year to expand my plushie collection. This plushie is made of furry fleece (aka the messiest fabric ever!). It works great for making something look furry while still keeping it soft and cuddly. :-)
I was inspired by two things when I made this plushie. Last year I made a chibi plushie for my friend's daughter and I really wanted to figure out a fun way to make Soot Sprites.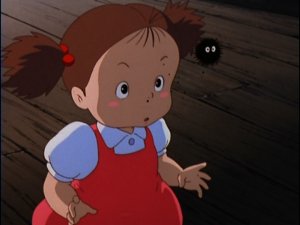 I started to make one out of yarn but I really wanted to make them out of fabric. I got busy and never got around to it. Then this week I was taking a little break and playing Chuzzle on my phone (I'm hooked!) and thought it might be fun to make a furry little plushie that looked a bit like a Chuzzle.
And that is how my new plushie came to be. :-)
~~~~~~~~~~~~~~~~~~~~~~~~~~~~~~
Now I need your help. I don't know what to name this plushie! Will you help me? I decided to have another
contest
like I had for the Love Bites and ask for suggestions. I will then open it up to a vote and the winner will get one of these little guys for a prize! What do you think? Do you want to play?
Here's how it works...
1. Comment on this post with your name, name idea and an email address where I can contact you for shipping info if you win. Names will be accepted until Thursday, October 13th.
2. Voting will open on Friday, October 14th and last through Sunday, October 16th.
3. The winning name will be announced on Monday, October 17th.
p.s. I have been having trouble finding more colors of the furry fleece. I have tried the fabric stores I know of in Austin and I tried to find some online with no luck. Do any of you know where I can find some? Your help would be much appreciated. :-)